Peru
Cusco & The Sacred Valley
Trip Features
Self-guided tours of the main cities and Incan historical sites. Guided adventure sports. Optional volunteer projects and language classes.
Dates & Costs
Choose your start date & travel companions. 2-week core itinerary from $970/week. 2-10 week volunteer & language extensions from $770/week.
Ages & Availability
Open to ages 18+. Book now for 2023.
Trip Overview
From modern-day Cusco to the ruins of Machu Picchu to the rushing rivers of the Sacred Valley, Peru is a wonderland for the active traveler. This popular adventure combines flexible, self-guided exploration with adrenaline-pumping guided adventure tours to balance independence and safety. You'll have a chance to hike, bike, raft, and horseback ride amidst the stunning scenery of the Andes, then dive deeper into Peruvian culture through intensive Spanish language classes and locally-led volunteer projects.
Individuals arriving in Peru must present proof of at least two doses of a recognized COVID-19 vaccine prior to boarding at their point of origin. In lieu of these requirements, individuals must present a negative result from a molecular test within 48 hours prior to boarding an incoming flight to Peru. For more information, visit the embassy website or contact our team for more detailed guidance.
Itinerary
The adventure begins! You'll spend your first day in Cusco getting acclimated to the altitude and your new environment. You'll have a chance to meet with your in-country Host for a comprehensive orientation session, where we'll go over your Trip Information Packet (TIP), review safety considerations, cultural norms, and more (new to self-guided travel? – see how it works). Of course, you may have many questions as you begin your journey. Your Host will help you feel as welcome and informed as possible!

Included: Airport transportation; Orientation session; Accommodations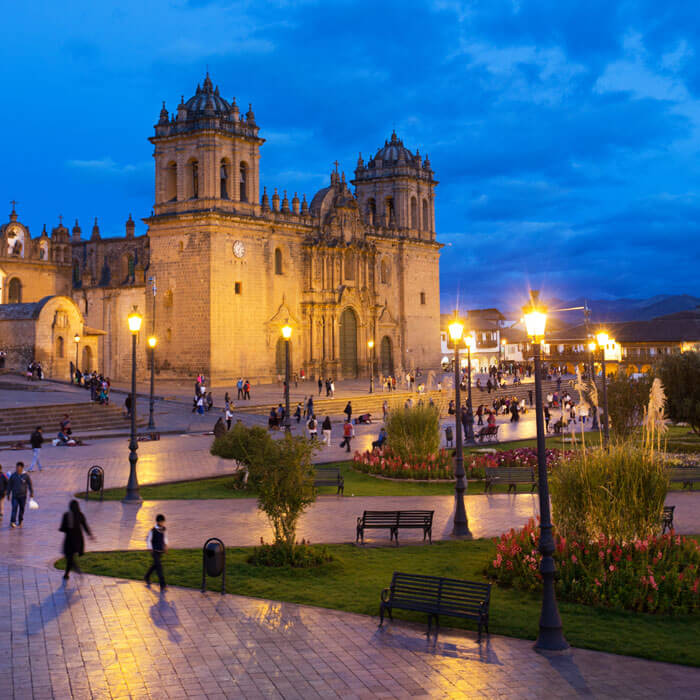 You'll want to take it a bit easy during your first few days in Peru. At 11,152 feet in elevation, the beauty of Cusco isn't the only thing that may take your breath away! As a fun, go-at-your-own-pace introduction to the city, you'll have a blast on our 2-day, self-guided scavenger hunt. On your adventures, you may find yourself gazing at towering cathedrals, sipping fresh juices in a local market, dancing with locals, and much more. And – oh yes – there will be prizes!

Included: Breakfasts; Scavenger hunt; Entrance fees to major attractions; Accommodations
Sacsayhuamán & the Devil's Balcony
After your fun in the city, it's time to explore the beauty of Cusco's surrounding countryside. Get ready for some incredible views, as you'll start with our self-guided tour of the Incan citadel of Sacsayhuamán. You'll then have the option of joining a guided horseback ride to the Devil's Balcony, an off-the-beaten gem for nature lovers. Or those less equine-inclined can follow our detailed hiking instructions to reach its unique cliffs and caves.

Included: Breakfast; Entrance fee to Sacsayhuamán; Horseback ride including guide, transportation, gear, and snacks; Accommodations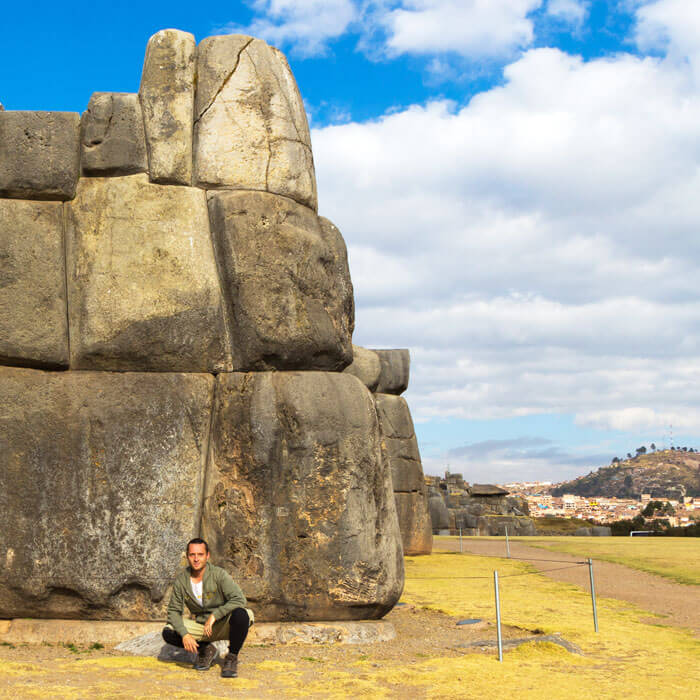 Rainbow Mountain & Q'eswachaka
Next, you'll step even further outside the urban areas to the more remote and spectacular scenery south of Cusco. Depending on your fitness level and tolerance for crowds, you can choose to hike Vinicunca or Palccoyo Rainbow Mountain. The other-worldly beauty of these peaks is a highlight for many. You'll also have a chance to walk Q'eswachaka, the last remaining Inca rope bridge (did we mention it's woven from grass?). This less-visited yet thrilling excursion will undoubtedly get your blood pumping!

Included: Breakfasts; Transportation between sites; Self-guided tours; Accommodations
Travel Deeper: Volunteer
To truly understand Peru, you must get to know its local people and their life challenges. As an optional yet strongly recommended trip extension, consider contributing to our locally-led community service projects in Cusco and the Sacred Valley. BACK&PACK requires a two-week commitment (minimum) for the volunteer extension, yet we encourage you to volunteer longer (ten-week maximum). Projects may include a mix of humanitarian and construction work. Partner organizations have included:

Casa Mantay – A center for adolescent mothers
Santa Teresa Orphanage – A center for people with disabilities
Peruvian Hearts – A women's empowerment project
MySmallHelp Peru – A community development project

$770/week includes: Breakfasts; Volunteer placement, projects, and materials; Transportation between project sites; Donations to partner organizations; Accommodations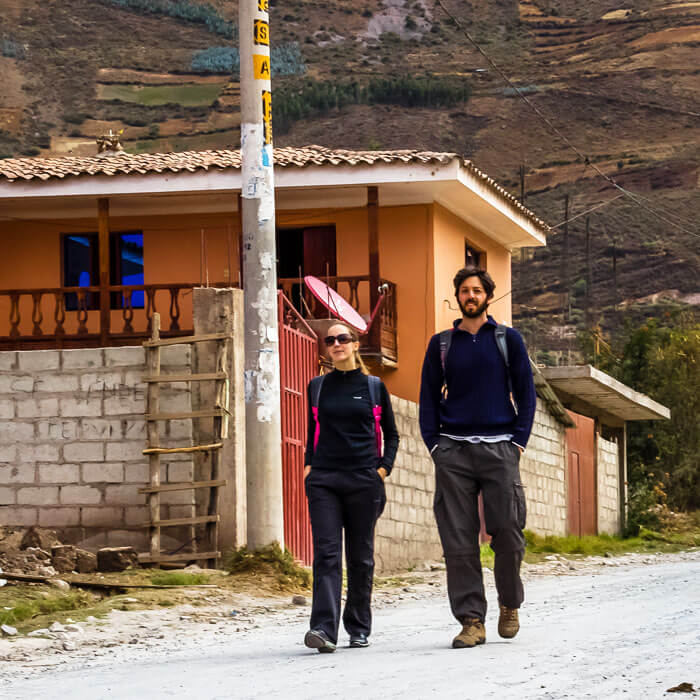 The complexity of Incan construction was remarkable. For the next two days, you'll dig deeper into Incan history on our self-guided tours of the main ruins near Písac, Urubamba, and Ollantaytambo. You'll have a chance to hike more of the serene countryside and shop in local handicraft markets to practice those fine-tuned haggling skills (not sure how to haggle – don't worry, we'll give you some pointers). Around this time, we'll also schedule your weekly phone check-in with our team.

Included: Breakfasts; Transportation between cities; Self-guided tours; Entrance fees; Accommodations
By this point, you'll likely be sick of all the spectacular, mind-blowing Andean scenery (kidding!). Now it's time to spend a little time on the water. You'll visit Lake Piuray for some rest, relaxation (coca tea, anyone?), and quite a bit of fun. You'll have access to paddleboards and mountain bikes to explore the natural area. And if yoga's your thing, there's no better place for it. We recommend that you spend one night camping by the shore, yet standard arrangements in a nearby hostel/hotel are also available.

Included: Breakfasts; Transportation between sites; Paddleboarding & biking gear; Accommodations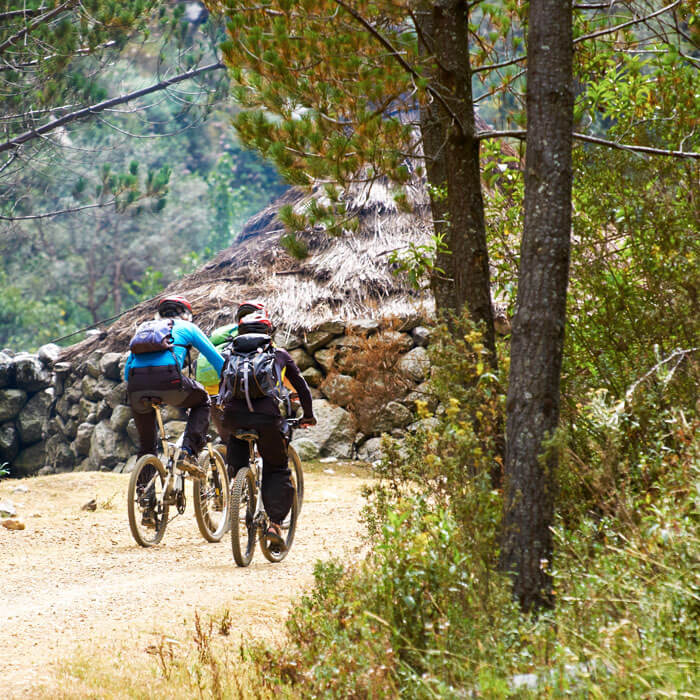 Travel Deeper: Language
¿Hablas español? You should learn! There's no better way to get in deep with a country than learning the local language. For this optional 2-10 week extension, you'll work with professional instructors at a Spanish language school in Cusco. No prior experience is necessary – just a willingness and excitement to learn one of the greatest of the Romance languages. You'll be placed in a class that matches your experience level, whether that's the most beginner of beginners or somewhere more advanced.

$770/week includes: Breakfasts; Spanish language instruction (10-20 hours/week); Course materials; Accommodations
No trip to Peru would be complete without a visit to Machu Picchu! Yet we say from experience, not every tour is alike. Our carefully planned excursion helps you get ahead of the day-tripping tourists for a quieter and more personal view of this "City in the Clouds." You'll have time to hike to great heights (taking that selfie you've been dying for) and explore nearby Aguas Calientes, where you can shop for souvenirs, take a dip in the local hot springs, or even visit a pristine nature preserve.

Included: Breakfasts; Train & bus tickets; Machu Picchu entrance fee; Accommodations; ~$30 surcharge for Huayna Picchu (a world's "best hike"), depending on availability
You'll cap off your adventures in the Sacred Valley with a guided whitewater rafting trip on the Rio Urubamba. Depending on the time of year, you'll have a blast tackling class II, III, even IV rapids. Your professional guides make it safe and fun for all, and stunning views of the "sacred river" and surrounding cliffs punctuate another fantastic adventure. At the end of your fun-filled day, you'll be transported to your accommodations in Cusco for your final night and dinner.

Included: Breakfast; Rafting tour including guides, transportation, gear, and lunch; Accommodations
At the end of your trip, you'll have a chance to meet with your in-country Host to participate in our closing activities. We'll be sad to see you go, yet the end of one journey is simply the beginning of another. Whether you continue to another destination from here (Ecuador and the Galapagos, anyone?!) or head home, we hope you've enjoyed your stay in the timeless Land of the Incas.

Included: Breakfast; Airport transportation; Closing program & farewell gift
Start Your Adventure
After completing this short form, we'll reach out to discuss your trip options in more detail, as well as our booking and payment process. Submitting this form is not a booking obligation – simply a starting point for our discussion!