Ecuador EcoAdventure
Solo travelers! Join us for an unforgettable small group adventure to Ecuador and the Galapagos Islands!
Trip Overview
Ecuador. As a "megadiverse" country, few places offer more natural wonders packed into one relatively small area. From the towering Andes mountains to the steamy Amazon rainforest to the otherworldly beauty of the Galapagos, Ecuador is a paradise for adventure, culture, and nature lovers alike.
On this extraordinary BACK&PACK trip, you'll join other like-minded solo travelers to hike Ecuador's Quilotoa Crater, whitewater raft through the cloud forest, snorkel with sea lions, learn from Amazonian people, contribute to meaningful humanitarian projects, and much more.
Upcoming Trips
July 2 – 16, 2023: $2,300
---
October 16 – 30, 2023: $2,300 $1,650
Book by June 10th and save $650!
---
January 2 – 16, 2024: $2,600 $1,950
Book by June 10th and save $650!
Duration


15 days
Group Size


8 – 12 travelers
Suggested Ages


20 – 29
Difficulty


Moderate
Language


English
Accommodations


Hostels, B&Bs, ecolodges
Traveling Solo, But Not Alone
Andes Ecolodge & Quilotoa Hiking
Amazon Exploration & Volunteering
Galapagos Biking & Snorkeling
Day 1: The adventure begins! You'll spend your first day in Quito getting acclimated with your new group of fellow solo adventurers. We'll spend time going over important safety information and cultural norms during orientation, share laughs during silly icebreaker games, and start to explore Quito's backpacker paradise of La Mariscal.
Day 2: Our first full day in Ecuador will be devoted to the vibrant city of Quito and the surrounding areas. Resting at an altitude of 9,200 feet and situated between two mountain ranges, Quito's setting is dramatically beautiful. Come prepared on this day for a mix of history and adventure as we'll spend time exploring the squares and cathedrals of "old town," discover the uniqueness of the equator at Mitad del Mundo, and float high above the city on Quito's jaw-dropping gondola ride.
Day 3 – 6: Next, we'll head south to the dramatic peaks and wind-swept páramo (high-altitude grasslands) of Ecuador's central Andes region. Here, we'll spend a day trekking the Quilotoa caldera (collapsed volcano), visit a traditional Andean market, zipline over the hillsides, and unwind at a local yoga studio. Equal parts exhilarating and relaxing, Ecuador's Andean region is undoubtedly one place you'll never forget!
Day 7: On this action-packed, get-your-blood-pumping day, we'll get deep into the heart of the Ecuadorian cloud forest on whitewater rafts. No experience is necessary for this excursion, but come prepared for excitement and plenty of laughs! Our top-notch local guides make navigating class II-IV rapids seem like child's play. We'll enjoy lunch along the river and have a chance to take a dip in the soothing waters of the Rio Toachi.
Day 8 – 11: A highlight for many, we'll spend four days and three nights at an authentic jungle ecolodge up the Rio Napo. Our local Amazonian guides are as informative as they are inspirational. We'll hike through the rainforest and spot magnificent wildlife, including multiple species of monkeys, birds, and insects. For those that have wanted to check fishing for piranhas off their bucket list (anyone?), you'll get a chance to do that too! We'll cap off our stay by spending valuable time with the locals through our cultural exchange activities and a half-day volunteer project.
Day 12 – 15: At last, we'll journey onwards and fly to the otherwordly islands of the Galapagos! It's hard to describe one's first few moments in the enchanted islands. "Magical" is as close a word as any! For 4 days/3 nights, we'll immerse ourselves in this natural wonderland. While based on the island of Santa Cruz, we'll embark on day trips to frolic amongst sea lions, blue-footed boobies, frigate birds, marine iguanas, and much more. We'll spend ample time snorkeling the Galapagos' clear waters, mountain bike to the highlands, and get up close and personal with the giant tortoises at the Charles Darwin Research Station. The Galapagos is world-famous, and we know you'll leave Ecuador with a clear understanding of why.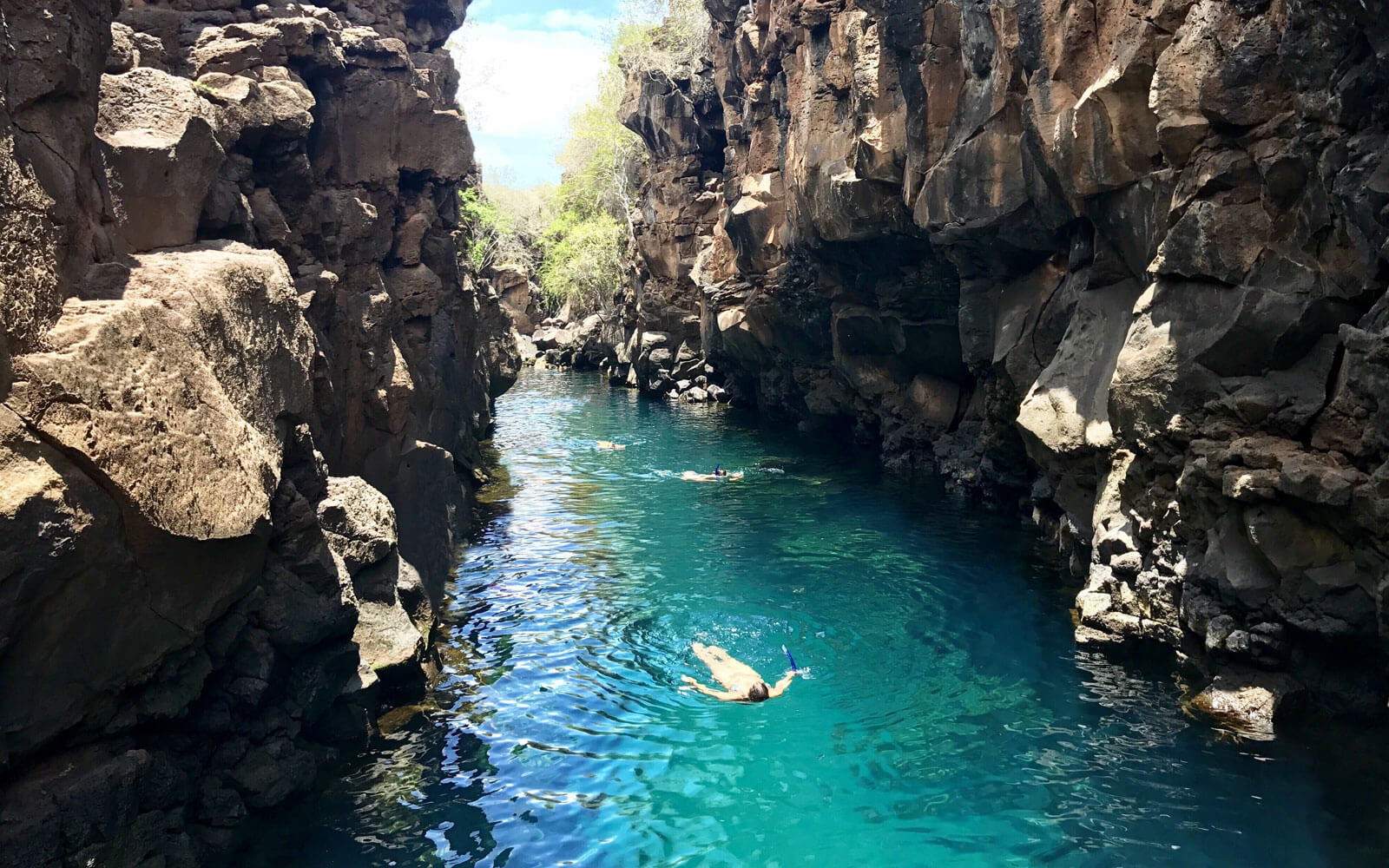 * Please note that BACK&PACK reserves the right to rearrange, modify, or cancel activities based on what's in the best interest of the trip and our travelers' safety.
Our trip fees cover major expenses while abroad, yet we also believe in giving travelers flexibility during their trip. To assist with your budgeting, please ensure you've reviewed the following.
Included:
Experienced and professional guides
Shared accommodations in hotels/hostels, B&Bs, and ecolodges
Ground transportation to/from group activities
Group meals, drinking water, and a "first drink on us" on two (2) special nights
Equipment and entrance fees for the adventure excursions
All equipment and supplies needed for the volunteer projects
Donations to our partner organizations
First-day orientation focused on safety and personal goal setting
Closing activities and farewell gift
Not included:
Health/travel insurance (strongly recommended)
Flight costs to/from Quito (UIO), the Galapagos, and the Amazon
Airport/airline taxes, baggage fees, flight upgrades, meals, etc.
Transportation to/from Quito airport (UIO) and our accommodations at the beginning and end of the trip
Passport, visa, vaccinations, etc.
Any costs incurred due to medical needs/emergencies/evacuations
Personal spending money for shopping, alcohol, snacks, etc.
Cell phone and internet usage
Laundry expenses
Personal gear (a detailed packing list will be emailed to you 3 months before departure)
Learn more about the people and partnerships behind this adventure!
Dan Meyer
B&P Founder, Director, Facilitator, Extreme Storyteller
Dan has been active in the field of experiential education since 2000. Over the course of his career, Dan has overseen global programming that has collectively sent 2,200+ travelers abroad and contributed 195,000+ volunteer hours to at-risk communities and causes around the world. He holds an Executive MBA, a Master's degree in Experiential Education, and has personally guided 19+ multi-week trips abroad, ranging from the mountains of Peru to inner-city Thailand to Tibetan exile communities in India to the crystal clear waters of the Galapagos and much more. Dan began developing and operating trips to Ecuador and the Galapagos in 2007 and loves to share its wonders with fellow adventurers. In his free time, you'll find him spending quality time with his wife, Jenn, and son, Finn, while cooking, hiking, and exploring the mountains near his home in beautiful Boulder, Colorado.
---
Melisa (Meca) Sanchez Vargas
B&P Guide, Funmaker, Artist
Meca was born in Lima but now lives in the magical city of Cuzco. She is a fashion and interior designer that loves to travel around the world, seeking new adventures and new things to see. She also loves yoga, running, and exercising. When not traveling, Meca works for different NGOs where volunteering and guiding others is a big part of her life. She also loves eating, trying new things, trekking, meeting new people, and making new friends! She looks forward to working with BACK&PACK travelers to show her local community.
---
Sumak Allpa
Volunteer Projects
Sumak Allpa Foundation and Sumak Allpa Biodiversity Management Center are located in the Ecuadorian Amazon basin on the banks of the Rio Napo. In 2007, Hector Vargas developed an interpretation center and established an education program with Sumak Allpa bicultural and bilingual elementary school. Today, Sumak Allpa School continues in the Loma del Tigre Kichwa community, and they operate a primate rescue program.
---
It's important to note that BACK&PACK is not a luxury travel program. What unites us at BACK&PACK is a genuine desire for affordable, responsible, and authentic travel experiences. We love to step outside our comfort zones and the confines of the tourist bubble, which often means traveling more humbly and simply. You might be a good fit for our trips if you like staying in hostels where you can get to know other travelers vs. snobby five-star luxury hotels – and eating at local haunts instead of overpriced tourist restaurants.
We hand-select all accommodations based on value, comfort, quality, uniqueness, and safety. We also strive to support businesses that share our values in sustainability and responsible travel. Furthermore, we seek to foster genuine community, camaraderie, openness, and adventure at BACK&PACK. As such, we use a variety of shared accommodation arrangements on our trips, ranging from double and triple rooms with shared bathrooms to larger, coed hostel dormitories. We typically rotate roommates throughout the experience to ensure all travelers get to know one another.
With this in mind, we ask that all participants come prepared to live and travel with a community-first mindset. As the adage goes, "Think we, not me." Yet we understand our style of travel might not work for all. If you have a question or concern about our accommodations or rooming policies, please feel free to contact our team.
Your booking covers all group meals, drinking water, and a "first drink on us" wine/beer on two (2) special nights. You are welcome to bring extra spending money should you want to supplement our meals/snacks/drinks with your own. We can accommodate most dietary restrictions (gluten-free, dairy-free, vegetarian, vegan, etc.). For severe food allergies (peanut, etc.), contact us to discuss the risks and our limitations.
Our Ecuador EcoAdventure experience begins and ends at Quitos's Mariscal Sucre International Airport (UIO). UIO typically has a wide selection of airlines and flight times, as well as very reasonable fares. As we welcome travelers from all over the world, our pricing does not include the cost of flights.
We accept arrivals and departures at any time on the scheduled start and end dates. However, when possible, we suggest timing your arrival in the morning or early afternoon to make the most out of that first day – our day to break the ice and see some of Quito!
What do you mean – "designed for solo travelers"?
Our group trips are available exclusively to individuals traveling on their own. If you're nervous about (or just don't want to!) joining a group tour where others sign up with their friends or family – this is the trip for you. We're all in the same "solo traveler" boat together!
At BACK&PACK, we believe in the transformational power of solo travel. Traveling somewhere on your own – even when combined with the camaraderie of our small group trips – teaches you more about yourself and stretches you further outside your comfort zone. As a purpose-driven, experiential education company, it is one of our main objectives to strengthen our participants' sense of independence and self-confidence. Limiting our trips to solo travelers is one of the many ways we achieve this goal.
So – can we count you (and only you 😉 ) in?
What makes BACK&PACK different from other tour companies?
Well, first of all, you'll hurt our feelings if you call us a tour company. 😢 While we indeed organize some incredible tourist activities for all our itineraries, our trips are ultimately designed to be more educational and inspirational than an average tour.
Our focus at BACK&PACK is on the independent/solo travel experience. As solo travelers ourselves, we know the profound impact this kind of experience can have. When you travel solo, you get to know yourself more. You might find yourself changing in new ways – developing more feelings of empowerment, independence, and self-confidence. It's part of your journey, yet we're here to help facilitate!
Throughout the trip, we plan optional (yet strongly encouraged) experiential educational activities to bring more depth to the experience. Whether it's spending an hour at night reflecting with your group or participating in our surprise "challenge by choice" activities, you'll quickly learn we seek a transformational experience above all else.
What are the eligibility criteria for this trip?
Due to the active nature of our Ecuador EcoAdventure experience, participants should be reasonably fit and have some background in hiking and/or other low-impact outdoor adventure activities.
Additionally, we ask that participants have a high level of maturity, share our "safety first" mentality, and treat others as they wish to be treated. Ecuador EcoAdventure is more than a tour – through volunteering, we go below the surface to explore issues and possible solutions. While we certainly kick back and have fun – if you are only looking to join the "backpacker party scene," it's safe to say you will not be a good fit for our trips. BACK&PACK participants should have a respectful demeanor, an open mindset, and – most of all – a commitment to safety and personal responsibility.
I'm not from the U.S. Can I book a trip?
Absolutely! We are open to travelers from all backgrounds and nationalities.
Do I need travel insurance?
Travel insurance is not required, yet we strongly advise every participant to purchase a comprehensive policy that covers unexpected medical and emergency evacuation expenses. Travel is anything but predictable, and you never know when that annoying "extra" insurance expense will pay itself back tenfold. If you need some help identifying a policy that is right for you and your budget, please contact us. We'll be happy to make some recommendations.
What about visas?
BACK&PACK can not apply for passports or visas on your behalf, yet the information below should help guide you through the process. As always, contact our team if you have questions or run into any issues.
Travelers with U.S. passports – For the most up-to-date information, please visit Ecuador's page at travel.state.gov. Travelers with U.S. passports do not need a visa for stays less than 90 days but must have 6+ months of validity after the departure date from Ecuador. If you need to apply for or renew your passport, please submit your application as soon as possible.
Travelers with non-U.S. passports – Please verify passport and visa requirements for your nationality by contacting your local Ecuadorian embassy or consulate. The websites embassypages.com and embassy-finder.com operate handy directories of embassies and consulates around the world. If you're required to obtain a visa and need specific information for the application process, please let us know at info@backandpack.com. We will be happy to assist you.
Can I ask another question?
Of course! Feel free to email, call or text us with any additional questions.
At the time of booking, we require a $250 USD non-refundable deposit. Full payment is due 90 days before your start date or at the time of booking if less than 90 days. Payments can be made via check, credit card, or bank transfer.
If you have to cancel: We'll be sad to see you go! Yet you may request a partial refund under the following schedule. Note, regardless of the timing, all refunds are subject to the $250 USD non-refundable fee. We reserve the right to cancel delinquent or non-paying participants without notice or refund.
91+ days: 100% refund minus $250 deposit
61-90 days: 75% refund minus $250 deposit
31-60 days: 50% refund minus $250 deposit
15-30 days: 25% refund minus $250 deposit
0-14 days: 0% refund
If we have to cancel: While uncommon, factors outside our control (global travel restrictions, etc.) may require us to temporarily suspend or cancel a trip. In the unlikely event that BACK&PACK cancels a trip, we can work with you to find alternate dates or destinations – or you can elect to receive a full refund of your deposit and trip fees.
Request More Information
Ask us anything! Fill out the form below with your questions or comments. We'll reach out within 24 hours.
We'll use your personal information in accordance with our Privacy Policy.