Iceland
Reykjavík & The Ring Road
Trip Features
Self-guided tours of Iceland's capital & natural wonders. Guided whale watching, horseback riding & snorkeling tours. Optional volunteer projects.
Dates & Costs
Available May-Sept. Choose your start date & travel companions. 2-week core itinerary from $1,870/week. 2-8 week volunteer extensions from $1,270/week.
Ages & Availability
Open to ages 18+. Book now for 2023.
Trip Overview
Iceland. The Land of Fire and Ice. Few destinations capture the imagination like the world's wonderland in the North. Overflowing with natural beauty – from cascading waterfalls to steamy lagoons and much more – Iceland offers something for everyone. This hybrid adventure combines thrilling, guided day tours with self-guided city adventuring and countryside camping. And good-hearted travelers wishing to give back can put their hearts and hands to work on our locally-led volunteer projects.
All rules regarding limitations on social gatherings as well as the quarantine requirement for those infected by COVID-19 have been removed. Additionally, no COVID prevention measures will be in place at the border, regardless of whether individuals are vaccinated or unvaccinated. For the most up-to-date information, please visit the embassy website and contact our team for more details.
Itinerary
The adventure begins! You'll spend your first day in Reykjavík getting acclimated to your new environment. You'll have a chance to meet with your in-country Host for a comprehensive orientation session, where we'll go over your Trip Information Packet (TIP), review safety considerations, cultural norms, and more (new to self-guided travel? – see how it works). Of course, you may have many questions as you begin your journey. Your Host will help you feel as welcome and informed as possible!

Included: Airport transportation; Orientation session; Accommodations
Home to 60% of Iceland's population, Reykjavík is among the cleanest, greenest, and safest cities in the world. Vibrant street art, quirky architecture, laid-back locals, and jaw-dropping cuisine offer visitors endless opportunities for an urban adventure. As a fun, go-at-your-own-pace introduction to the city, you'll have a blast on our 2-day, self-guided scavenger hunt. As you explore the city, you may find yourself sampling Hákarl (or perhaps the local licorice if "fermented shark" is not your style;), taking in breathtaking views of the city, soaking in thermal pools, and much more. And – oh yes – there will be prizes!

Included: Breakfasts; Self-guided tours; Entrance fees to major attractions; Bus transportation; Accommodations
How would you like the once-in-a-lifetime opportunity to swim between continental plates? On this exciting, professionally-guided day tour, that's just what you'll do! Located at the intersection of the North American and Eurasian plates, the Silfra fissure in Iceland's Þingvellir National Park is as unique an experience as it sounds. Deep blue waters, dark lava rock, and vibrant algae contrast to create a stunning sight for snorkelers. Thirsty? No need to wait here. Originating as meltwater from the nearby Langjökull glacier, Silfra's water is filtered underground through porous lava rock for 30-100 years. It emerges so pure you can drink straight from the fissure!
Included: Breakfast; Silfra snorkeling tour including guides, transportation, gear, and snacks; Accommodations
No visit to Iceland would be complete without an up-close and personal encounter with the countryside's star residents – the Icelandic horse! First introduced by Norweigan settlers in the 9th and 10th centuries, the Icelandic descends from a breed now extinct outside Iceland's borders. As another thrilling day trip from the modern comforts of Reykjavik, you'll spend an afternoon riding these colorful creatures. It's your opportunity to relax and experience a simple way of life enjoyed by many of Iceland's rural people.

Included: Breakfast; Horseback riding tour including guides, transportation, gear, and snacks; Accommodations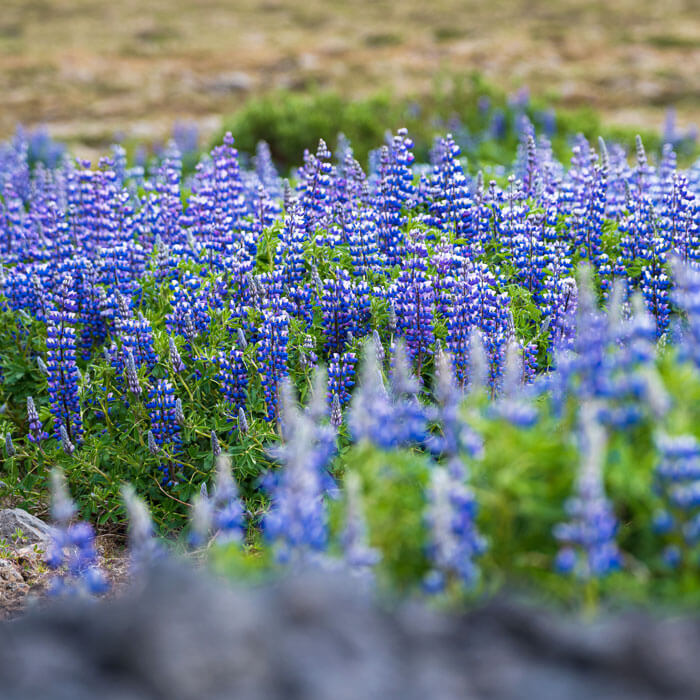 Travel Deeper: Volunteer
To truly understand Iceland, you must get to know its present-day challenges. As an optional yet strongly recommended trip extension, consider contributing to our locally-led community service projects. BACK&PACK requires a two-week commitment (minimum) for the volunteer extension, yet we encourage you to volunteer longer (ten-week maximum). Volunteer projects may include hands-on work in reforestation, sustainable agriculture, and beach cleanups with local non-profits and NGOs.

$1,270/week includes: Breakfasts; Volunteer placement, projects, and materials; Transportation between project sites; Donations to partner organizations; Accommodations
Picture yourself roaming Iceland's southern coast, jumping from the iconic Seljalandsfoss waterfall to the Reynisfjara black sand beach to the Jökulsárlón glacier lagoon and more. Now picture yourself spending those nights camping under the Icelandic stars. Yep, it's life-changing! On this exciting, self-paced bus tour, you'll explore all the best the southern coast has to offer. Bring your own camping gear or rent in Reykjavík – we'll provide all the guidance and instructions you need to get away from the crowds and make the most of this incredible camping adventure.
Included: Ground transportation; Self-guided tour and camping instructions; Camping gear available for rent in Reykjavík
Next, you'll explore the historical landmarks, vibrant culture, and untouched nature of Northern Iceland. While based in Akureyri – Iceland's "capital of the north" – you'll join in on two guided day trips. Northern Iceland is well known for whale watching, and you'll have a chance to hop on board a boat to spot some of these majestic giants. You'll also venture inland to the otherworldly – some say moonlike – geologic and volcanic formations in and around Lake Mývatn. If the beauty of Iceland has yet to surprise you, the North will most surely take your breath away.

Included: Breakfasts; Transportation to/from Akureyri; Whale watching & Mývatn day tours including guides, transportation, gear, and snacks; Accommodations
Your time in Iceland is almost at an end. Yet many will say we've saved the best for last! On your final full day in Reykjavík, you'll have a chance to submerge yourself in the tranquil waters of the famed Blue Lagoon. Rich in minerals like silica and sulfur, these unique pools offer the perfect environment to relax and reflect on your incredible adventures. You can go at your own pace and stay as long as you like on this day. When you're ready, you'll head back to Reykjavík and have the option to meet with your in-country Host one last time to participate in our closing activities.
Included: Breakfast; Bus to/from the Blue Lagoon; Entrance fee; Closing program & farewell gift; Accommodations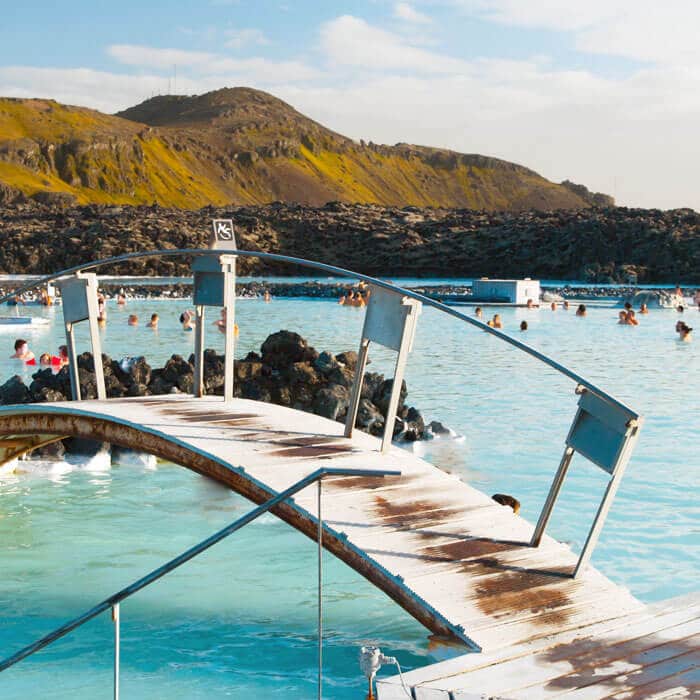 At the end of your trip, you'll have a chance to do any last-minute shopping or sightseeing in Reykjavík before your transport to the airport. We'll be sad to see you go, yet the end of one journey is simply the beginning of another. Whether you continue to another destination from here (Spain, anyone?!) or head home, we hope you've enjoyed your stay in the Land of Fire and Ice.

Included: Breakfast; Airport transportation
Start Your Adventure
After completing this short form, we'll reach out to discuss your trip options in more detail, as well as our booking and payment process. Submitting this form is not a booking obligation – simply a starting point for our discussion!