Ecuador
Quito & The Galapagos Islands
Trip Features
Self-guided tours of the coastal and marine ecosystems. Guided snorkeling, kayaking, and hiking tours. Optional volunteer projects.
Dates & Costs
Choose your start date & travel companions. 2-week core itinerary from $970/week. 2-6 week volunteer extensions from $770/week.
Ages & Availability
Open to ages 18+. Book now for 2022.
Trip Overview
1,000 km from the South American continent lies 19 islands, unworldly beauty, and endless adventure. On this unique BACK&PACK trip, you'll island-hop between three breathtaking islands to snorkel with sea lions, kayak pristine waters, hike active volcanoes, and so much more. Exploring the islands without a cruise (and away from the crowds!) is equal parts intimate and magical. And for those looking to dive even deeper, you'll have a chance to give back through our locally-led conservation projects.
Upon entry to Ecuador, all travelers must provide a COVID-19 vaccination card with QR code or a COVID-19 vaccination certificate showing the traveler received a complete series of the COVID-19 vaccine at least 14 days prior to entering Ecuador, or proof of a negative COVID-19 RT-PCR test taken no more than 72 hours prior to boarding the flight to Ecuador. For the most up-to-date information, please visit the embassy website and contact our team for more details.
ItinerARY
The adventure begins! You'll spend your first day on Ecuador's mainland in the capital city of Quito. You'll have a chance to meet with your in-country Host for a comprehensive orientation session, where we'll go over your Trip Information Packet (TIP), review safety considerations, cultural norms, and more (new to self-guided travel? – see how it works). Of course, you may have many questions as you begin your journey. Your Host will help you feel as welcome and informed as possible!

Included: Airport transportation; Orientation session; Accommodations
Resting at an altitude of 9,200 feet between two mountain ranges, Quito's setting is dramatically beautiful. Intrepid travelers experience a mix of the modern and traditional here, spanning the gamut from newly constructed apartment buildings to shamanistic healers. Well known to history buffs, Ecuador's capital city contains one of the largest and best-preserved historical centers in North and South America. You'll spend this day exploring the city's "old town" and Mariscal neighborhoods. With 40 churches, 17 plazas, and 16 convents and monasteries, and more, there's much ground to cover, yet with the help of our self-guided touring instructions, you'll hit the highlights with ease.

Included: Breakfast; Self-guided tours; Entrance fees to major attractions; Accommodations
On your third day, you'll fly from Quito to the island of San Cristóbal. It's hard to describe one's first few moments in the Galapagos. "Magical" is as close a word as any! You'll first enjoy a self-guided hike and relaxation at Playa Loberia, where you'll have a chance to frolic amongst blue-footed boobies, frigate birds, marine iguanas, and much more. You'll quickly discover that sea lions greet you at every turn (and may crowd out the benches you yearn for!).
You'll spend the next day on a professionally guided tour of Leon Dormido (Kicker Rock) – one of the Galapagos' most iconic rock formations – where you'll have a chance to snorkel with rays, colorful fish, turtles, sea lions, and even hammerhead sharks. We'd say, "don't look down" – but in this case, you really should!

Included: Breakfasts; 1 lunch; Self-guided tours; Kicker Rock excursion; Transport to Quito airport; Accommodations
Your next stop (island hop!) will be the ever-popular island of Santa Cruz. Here, you'll stroll the charming streets of the Galapagos's largest settlement, Puerto Ayora. This sleepy town offers many modern comforts, from shopping to dining to internet cafes and more. During your time on the island, you'll have a chance to get up close and personal with the giant tortoises at the Charles Darwin Research Station, swim the pristine waters of Tortuga Bay, snorkel the crystal blue pools of the Las Grietas crevasse, and bike to the volcanic highlands. Your self-guided tour plan will help you avoid the crowds, explore off the beaten path and into the heart of the Galapagos's central island.

Included: Ferry to Santa Cruz; Breakfasts; Self-guided tours; Bike & snorkel gear; Accommodations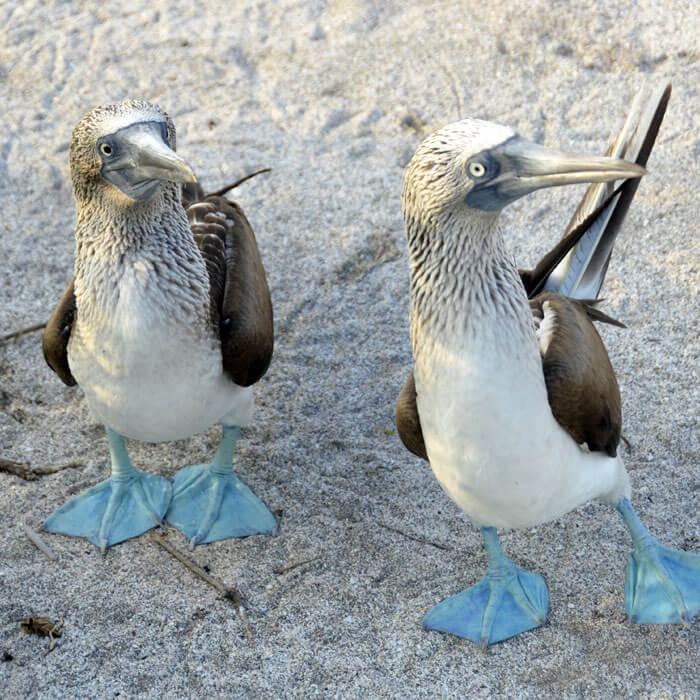 Travel Deeper: Volunteer
To truly understand the Galapagos's unique place in ecology and conservation, you must get to know its present-day challenges. As an optional yet strongly recommended trip extension, consider contributing to our locally-led community service projects. BACK&PACK requires a two-week commitment (minimum) for the volunteer extension, yet we encourage you to volunteer longer (six-week maximum). Project areas may include conservation work, child/school development, sustainable agriculture, and invasive species eradication with local farmers.

$770/week includes: Breakfasts; Volunteer placement, projects, and materials; Transportation between project sites; Donations to partner organizations; Accommodations
A highlight for many, you'll spend your last days in the Galapagos on the island of Isabela. Its main town, Puerto Villamil, is equal parts quaint and charming, with unpaved sand roads from end to end. During your days on Isabela, you'll have two scheduled day tours (guided). You'll kayak and snorkel the Las Tintoreras Islet, named after the whitetip reef sharks that call the channels home. On this spectacular excursion, you may spot turtles, rays, sea lions, and even the elusive Galapagos penguin!

Breaking from the coastal ecosystems, you'll also have a chance to climb the Sierra Negra volcano, the second largest volcanic caldera in the world. If you've ever wondered what it might be like to hike on the moon, this might be the closest thing to it! Then in your spare time, you'll have the option of self-guided snorkeling at Concha Perlas, seeing nearby flamingo lagoons, and hiking to the historic Wall of Tears for an eye-opening glimpse into a darker side of the Galapagos's history.

Included: Ferry to Isabela; Breakfasts; Self-guided tours; Las Tintoreras & Sierra Negra tours; Accommodations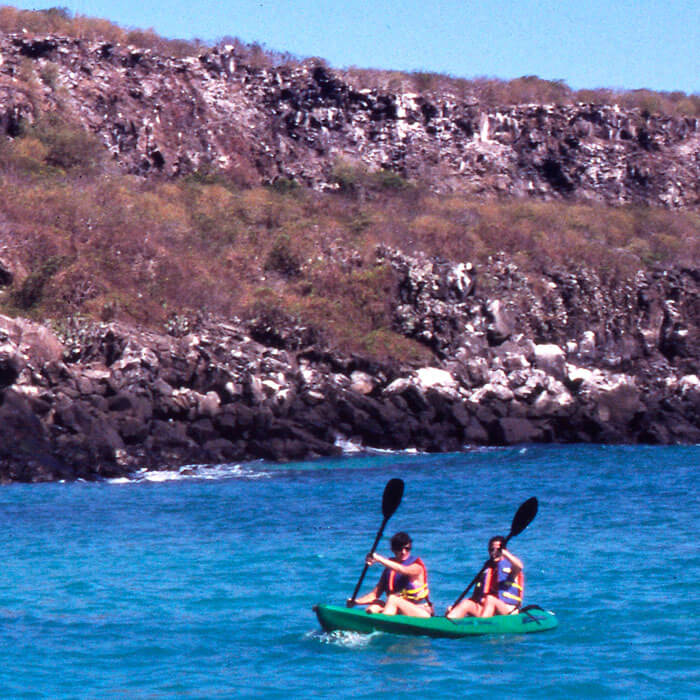 At the end of your trip, you'll ferry back to Santa Cruz. You'll have time to do any last-minute shopping or site-seeing, then continue to Quito via Seymour Airport on the island of Baltra. On your final night in Quito, you'll have a chance to meet with your in-country Host to participate in our closing activities. We'll be sad to see you go, yet the end of one journey is simply the beginning of another. Whether you continue to another destination from here (Amazon and Andes, anyone?!) or head home, we hope you've enjoyed your stay in the other-worldly islands of the Galapagos.

Included: Breakfast; Ferry to Santa Cruz; Airport transportation; Closing program & farewell gift
Start Your Adventure
After completing this short form, we'll reach out to discuss your trip options in more detail, as well as our booking and payment process. Submitting this form is not a booking obligation – simply a starting point for our discussion!
Travel Planning
Your journey will begin and end at Quito's Mariscal Sucre International Airport (UIO). After two nights in Quito, you will fly to the island of San Cristóbal (SCY). At the end of your trip, you will return to Quito via the island of Baltra (GPS).
As we welcome travelers from all over the world, our pricing does not include the cost of flights. You may book flights on your own or inform our team if you wish to add air transportation to your booking. Often, we can source fares as low as $900-$1,400 depending on your origination point and dates of travel.
Note that many variables influence the cost of flights. Differences between high/low season travel, how far in advance you look, the booking service you use, even the time of the week you search can impact the fares you'll find. That said, we recommend that you start to look for flights at least 3-6 months before your departure day. Typically, more of the cheaper seats will be available the further out you book, plus this offers some wiggle room to monitor price trends. Again, we are happy to navigate the process and find a great deal for you, all for a relatively small service fee ($35 per traveler).
Whether you book independently or with our team, coordinated air travel is of utmost importance. For those booking independently, please ensure you have e-mailed a copy of your itinerary to info@backandpack.com. Then if there are any changes to your itinerary before or on travel days, inform our team immediately by e-mailing us or calling +1.720.340.1139.
One of our core goals at BACK&PACK is to deliver high-quality travel experiences at an affordable price. Our fees cover major expenses while abroad, yet we also believe in giving travelers some flexibility during the trip (the point of self-guided travel!). To assist with your budgeting, please ensure you've reviewed the following.
BACK&PACK fees typically cover:
International SOS membership
A professionally planned trip, personal mentorship, and 24/7 travel support
Your Trip Information Packet (TIP) – delivered in an easy to access digital format – which includes detailed travel instructions, maps, in-country contacts, and medical/emergency information
A virtual or in-country orientation focused on safety, cultural norms, travel tips, and personal goal setting
Weekly check-ins with our U.S.-based team or in-country representatives
Accommodations (we price based on a tiered system – BUDGET, COMFY, or SPLURGE – see our FAQ for more information)
Some meals (see the itinerary above for specifics)
Ground and ferry transportation (see the itinerary above for specifics)
Guides and equipment for the included adventure excursions
Closing activities and farewell gift
BACK&PACK fees do not cover:
Health/travel insurance (required)
Flight costs to/from Quito (UIO), San Cristóbal (SCY), and Baltra (GPS)
Airport/airline taxes, baggage fees, flight upgrades, meals, etc.
National Park Entrance fee, Transit Control Card, and Isabela Island entry fee (~$130)
Passport, visa, vaccinations, COVID testing requirements, etc.
Any costs incurred due to medical needs/emergencies
Personal spending money (see the "Money" note on the "Packing List" tab for more specific information on money needs)
Meals/snacks not specified in the TIP
Activities, excursions, or transportation not specified in the TIP
Cell phone and internet usage
Laundry expenses
Local time – Quito is in the Ecuador Time (ECT) zone. The Galapagos Islands are in the Galapagos Time (GALT) zone. To calculate the time difference between Quito/the Galapagos and your area, we recommend timeanddate.com as it takes into account daylight savings rules and accepts present as well as future dates.
Currency – The official currency of Ecuador is the United States dollar (symbol: $; code: USD). For current currency conversion rates, we recommend visiting xe.com.
Weather – Ecuador and the Galapagos Islands are comfortable throughout the year. Whenever you visit, you won't be disappointed. For your convenience, we have compiled the following chart of key cities with the average ranges for highs (°F) / lows / rain days per month.
| | | | | |
| --- | --- | --- | --- | --- |
| | Jan-Mar | Apr-Jun | July-Sep | Oct-Dec |
| Quito | 66-67° / 48-49° / 10-15 | 66-67° / 48-49° / 7-15 | 67-68° / 47-48° / 5-11 | 66-67° / 47-48° / 11-14 |
| Puerto Ayora | 77-81° / 73-78° / 10-13 | 74-79° / 71-75° / 5-11 | 71-73° / 68-71° / 0-2 | 71-75° / 67-71° / 1-5 |
Dress code – Whatever you wear at home is likely equally acceptable in Ecuador. That said, if you want to look less like a tacky tourist and avoid unwanted attention, you should note that locals tend to dress more conservatively. We recommend you keep things simple, don't show too much skin (except at the beach!), and stick to classic combos (jeans/shorts and t-shirts, skirts and sweaters, etc.).
Language – Spanish is the dominant language in Ecuador. Quechua (the language of the Inca Empire) is still widely spoken as well, especially in the highlands. Note that English is not widely spoken in Ecuador. In major urban centers and areas that cater to tourists, you will encounter other English speakers. However, there will be times where you should be prepared to navigate with a friendly smile, some basic gestures, and whatever Spanish you may already know. While that may be intimidating for some, do not be shy or afraid! We encourage you to jump right in, as locals are very welcoming and friendly. You may find yourself picking up the basics very quickly.
Safety – Ecuador is generally considered to be safe for travelers. However, risk is inherent to travel, and there are always safety concerns regardless of where you go in the world. For a complete and thorough list of concerns and safety recommendations, please visit Ecuador's "Safety and Security" section at travel.state.gov. Note that while violent crime is rarer in Ecuador (especially the Galapagos), tourists are often the target of petty theft, pickpocketing, etc. Exercise good judgment and common sense, though, and you are likely to have an incident-free travel experience.
Food – Exploring all the unique foods and flavors of Ecuador can be positively delightful. Meat, rice, and potato dishes are a mainstay, and you'll find regional specialties such as seafood in the Galapagos. As part of your TIP, we will provide recommendations on things to eat and eateries to try. Additionally, your trip booking will include some meals (noted above), so please be sure to inform our team if you have any dietary restrictions or allergies. We will forward this information along to our in-country partners.
Water – The tap water in Ecuador is not safe to drink. You should drink only bottled water, which is widely available. Do not drink tap water, even in major hotels, and try to avoid drinks with ice. Additionally, you're safer only eating fruits that you can peel or salads and fruits washed with purified water.
Electrical outlets – Depending on the difference between your home country and Ecuador's electricity systems, you may need to bring a travel plug adaptor (changes the plug/outlet type) and an electric converter (changes the voltage/frequency) for your electronics to work. Ecuador's voltage/frequency is 120V/60Hz. Voltage/frequency in the U.S. is 120V/60Hz. Thus, U.S. travelers will not typically need a converter or adapter. For other travelers, you will need to ensure your electronics can be charged at 120V/60Hz (i.e., "dual-voltage") or bring along an electric converter and plug adapters (types A and B).
Cell phone – Many major cellular carriers have broad coverage overseas. Please check with your carrier for rates and coverage before travel, as many plans require you to activate international roaming before use. Alternatively, it's often the best deal to purchase a local SIM card and calling credits, especially for extended stays in Ecuador. You'll need to ensure your phone is "unlocked" (check with your carrier for instructions) and that it's GSM compatible. As part of your TIP, we will provide further guidance on this process.
Wi-Fi – You will find Wi-Fi in most cities and towns in Ecuador. Many cafes, restaurants, and hotels/hostels offer free Wi-Fi – though be prepared for sometimes painfully slow connections!
Laundry – Laundry services are available in many of the accommodations we use. Typically, you drop off a load at the front desk, pay by the pound, then receive your fresh and crisp clothing the next day. Very convenient! As such, we recommend packing light then doing your laundry every week or so.
BACK&PACK can not apply for passports or visas on your behalf, yet the information below should help guide you through the process. As always, contact our team if you have questions or run into any issues.
Travelers with U.S. passports – For the most up-to-date information, please visit Ecuador's page at travel.state.gov. Travelers with U.S. passports do not need a visa for stays less than 90 days but must have 6+ months of validity on their passport. If you need to apply for or renew your passport, please submit your application as soon as possible.
Travelers with non-U.S. passports – Please verify passport and visa requirements for your nationality by contacting your local Ecuadorian embassy or consulate. The websites embassypages.com and embassy-finder.com operate handy directories of embassies and consulates around the world. If you're required to obtain a visa and need specific information for the application process, please let us know at info@backandpack.com. We will be happy to assist you.
Keeping your documents safe – Please be aware that passports are quite valuable abroad. Guard your important documents as you do your credit/debit cards, and keep these items in concealed locations. Additionally, we suggest you make copies of your important documents (passport, visa, etc.) before travel. Having these copies is very useful in the event of loss or theft. You can make photocopies or scan documents into a secure yet accessible computer file (a password-protected file stored in the cloud, for example). If photocopying, we suggest you make two copies of your documents. Leave one copy at home with a close friend or family member. Keep hold of the other copy while abroad, separate from the original.
BACK&PACK can not offer specific medical advice, yet please use the steps below to guide your decision-making process regarding travel vaccinations. Note, we've included country-specific requirements regarding COVID-19 in the "Trip Overview" section above.
Go to the Travelers' Health section for Ecuador on the CDC's (Centers for Disease Control and Prevention) website.
Read through the information carefully and consider which precautions you may want to take.
Schedule an appointment with your physician or travel health professional. For assistance locating a travel clinic in your area, you may wish to try the Find A Clinic service on the CDC website. Please allow plenty of time before your trip to see your health care provider (CDC suggests 4-6 weeks). Let your provider know before your appointment that you are coming in for travel vaccinations. They might ask for the areas where you may visit. This itinerary typically includes urban and rural areas in/near Quito and the Galapagos Islands.
Mosquito and other vector-borne illnesses – It's important to note that protecting yourself from insect bites can significantly reduce your risk of vector-borne diseases (Zika, Malaria, Dengue, West Nile, etc.). On your packing list, we have included insect repellent with DEET along with long sleeve shirts/long pants. We recommend you use these items during your trip when contact with mosquitos and other insects is possible (excursions in outdoor settings, etc.).
Below you will find a detailed list of our recommended items for Quito and the Galapagos. Above all, remember you will be responsible for carrying your luggage from place to place. Do not skimp on essentials but know that you'll likely feel every ounce of weight over time. Thus, the lighter you can pack, the better. As a general rule, if your pack is more than 30-35 pounds, you've overpacked. Strive for less! You will have the ability to do laundry every week or two (see the "Laundry" note on the "Country Info" tab).
Travel Bags
Main bag (35-70 liter capacity, depending on your packing habits) – Many travelers prefer wilderness-style backpacks for ease of use in various environments abroad. Wheeled luggage or duffel bags are okay but should be easy to carry over long stretches of rough terrain (cobblestone streets, stairs, etc.).
Smaller bag for day trips, sightseeing, and weekend excursions
Documents & Money
Valid passport and visa (see "Travel Docs" tab)
Electronic or physical copy of travel documents (see "Travel Docs" tab)
Electronic or physical copy of flight documents/itinerary
Debit/credit cards and cash (see "Money" note below)
Insurance cards (see our FAQ for more information)
Student ID or other identification (optional – student IDs can sometimes get you discounts abroad)
Electronic or physical list of phone numbers, addresses for postcards, etc.
Clothing & Travel Gear
(see the "Country Info" tab for weather, recommended dress, etc.)
Lightweight short sleeve shirts, casual dresses, etc.
Long sleeve shirts, casual dresses, etc.
Lightweight pants or long skirts
Nicer outfits for going out
Shorts
Underwear
Socks
Sleepwear
Warm pants
Warm upper layers/sweaters/jackets
Raincoat/outer shell
Warm hat
Scarf
Gloves
Swimsuits
Snorkeling gear (optional but recommended)
Wetsuit (optional but recommended)
Comfortable walking shoes
Flip flops or sandals
Belt
Sun hat or cap
UV protected sunglasses
Mesh laundry bag labeled with your name
Travel plug adaptors and/or electric converter (see the "Electrical outlets" note on the "Country Info" tab)
Cell phone and charger
Tablet or laptop (see "Valuables and electronics" note below)
Headphones (optional)
Camera (optional)
eReader (optional)
Locks for luggage (optional)
Journal (optional)
Pens
Toiletries & Traveler's Health
(we suggest you pack in ziplock bags in case something leaks!)
Water bottle (see the "Water" note on the "Country Info" tab)
Quick-dry towel and washcloth
Soap or body wash (see "Eco-friendly products" note below)
Shampoo
Deodorant
Toothbrush, toothpaste, and floss
Lip balm
Eye care supplies (glasses, contact lenses, etc.) and spares
Hairbrush or comb
Any necessary razors, trimmers, and shaving cream
Nail clippers and tweezers
Medications (see "Medications" note below)
Personal first aid kit (see "First Aid" note below)
Waterproof sunscreen (SPF 30+)
Small bottle of insect repellent with DEET (25-30% concentration)
Earplugs and/or sleep mask (optional)
Any personal items you need not on this list (feminine hygiene products, etc.)
Valuables and electronics – Note that BACK&PACK is not responsible for lost, stolen, or damaged items. You are free to bring a tablet, laptop, camera, jewelry, watch, etc. – but if you are concerned about losing/damaging an item, then it's best to leave it at home.
Eco-friendly products – For your toiletries, please consider traveling with reputable "green" brands to help reduce environmental impacts. For soap/body wash, we're fans of Dr. Bronner's Pure-Castile Liquid Soap, for example.
First Aid – We recommend that all travelers come with a basic first aid kit for personal use. Supplies may include Band-Aids, antiseptic cream, pain/fever medication, cold medicine, antidiarrheals, mild laxatives, Pepto Bismol, anti-itch cream, decongestants, cough drops, etc. We HIGHLY recommend including Dramamine as well for seasickness during ferry crossings. While you can purchase premade first aid kits, these products tend to be bulky and don't always contain sufficient quantities of certain items. Alternatively, you can think about what you like to have on hand when you get a cold, the flu, upset stomach, bug bites, etc. Purchase necessary items (in sufficient quantities!) at your local pharmacy, then pack everything together in a ziplock bag.
Medications – You are responsible for the proper administration of any prescription and over-the-counter medications. Note, some prescription medications are difficult to find in pharmacies abroad. Please consider taking precautions to reduce the risk of loss. For your flights, ensure prescription medications are in your carry-on bag, NOT checked baggage. They should be clearly labeled in their original packaging/with instructions, as required by the airlines. Then when in Ecuador, you may wish to err on the side of caution by securing prescription medications in a bag with luggage locks. Luggage locks can be purchased at your local Walmart, Target, travel store, etc.
Money – Ecuador is a largely cash-based society. As such, we recommend traveling with a few days worth of cash from your home country, then converting upon arrival in Ecuador. Note that money changers in Ecuador are notoriously picky. All cash you bring must be in excellent condition – without tears or blemishes (even tiny ones!) – as many vendors and exchange houses abroad will not accept "damaged" bills.
We also recommend traveling with a debit/ATM (for additional cash withdrawals) and a credit card (kept in separate, concealed locations). Each offers distinct advantages abroad, plus having two cards is very useful in the event of loss, theft, or denial of one by a particular vendor.
MasterCard and Visa are the most widely accepted cards in Ecuador. Your cards will need chip technology and a 4-digit PIN. If you have questions or concerns regarding your debit/credit cards, contact your card provider. Also, be aware that some cards charge significant fees while traveling (e.g., 2-3% foreign transaction fees), so please budget for your card's total cost of use. It is also critical to inform your debit/credit card providers of your international travel plans before departure to avoid suspension of your account (i.e., fraud protection).