Ecuador
Quito & The Galapagos Islands
Trip Features
Self-guided tours of the coastal and marine ecosystems. Guided snorkeling, kayaking, and hiking tours. Optional volunteer projects.
Dates & Costs
Choose your start date & travel companions. 2-week core itinerary from $1,270/week. 2-6 week volunteer extensions from $970/week.
Ages & Availability
Open to ages 18+. Book now for 2023.
Trip Overview
1,000 km from the South American continent lies 19 islands, unworldly beauty, and endless adventure. On this unique BACK&PACK trip, you'll island-hop between three breathtaking islands to snorkel with sea lions, kayak pristine waters, hike active volcanoes, and so much more. Exploring the islands without a cruise (and away from the crowds!) is equal parts intimate and magical. And for those looking to dive even deeper, you'll have a chance to give back through our locally-led conservation projects.
Ecuador eliminated its COVID-19 entry requirements effective October 20, 2022. International travelers are no longer required to present COVID-19 vaccination cards or proof of a negative COVID-19 test prior to entering Ecuador. For the most up-to-date information, please visit the embassy website and contact our team for more details.
Itinerary
The adventure begins! You'll spend your first day on Ecuador's mainland in the capital city of Quito. You'll have a chance to meet with your in-country Host for a comprehensive orientation session, where we'll go over your Trip Information Packet (TIP), review safety considerations, cultural norms, and more (new to self-guided travel? – see how it works). Of course, you may have many questions as you begin your journey. Your Host will help you feel as welcome and informed as possible!

Included: Airport transportation; Orientation session; Accommodations
Resting at an altitude of 9,200 feet between two mountain ranges, Quito's setting is dramatically beautiful. Intrepid travelers experience a mix of the modern and traditional here, spanning the gamut from newly constructed apartment buildings to shamanistic healers. Well known to history buffs, Ecuador's capital city contains one of the largest and best-preserved historical centers in North and South America. You'll spend this day exploring the city's "old town" and Mariscal neighborhoods. With 40 churches, 17 plazas, and 16 convents and monasteries, and more, there's much ground to cover, yet with the help of our self-guided touring instructions, you'll hit the highlights with ease.

Included: Breakfast; Self-guided tours; Entrance fees to major attractions; Accommodations
On your third day, you'll fly from Quito to the island of San Cristóbal. It's hard to describe one's first few moments in the Galapagos. "Magical" is as close a word as any! You'll first enjoy a self-guided hike and relaxation at Playa Loberia, where you'll have a chance to frolic amongst blue-footed boobies, frigate birds, marine iguanas, and much more. You'll quickly discover that sea lions greet you at every turn (and may crowd out the benches you yearn for!).
You'll spend the next day on a professionally guided tour of Leon Dormido (Kicker Rock) – one of the Galapagos' most iconic rock formations – where you'll have a chance to snorkel with rays, colorful fish, turtles, sea lions, and even hammerhead sharks. We'd say, "don't look down" – but in this case, you really should!

Included: Breakfasts; 1 lunch; Self-guided tours; Kicker Rock excursion; Transport to Quito airport; Accommodations
Your next stop (island hop!) will be the ever-popular island of Santa Cruz. Here, you'll stroll the charming streets of the Galapagos's largest settlement, Puerto Ayora. This sleepy town offers many modern comforts, from shopping to dining to internet cafes and more. During your time on the island, you'll have a chance to get up close and personal with the giant tortoises at the Charles Darwin Research Station, swim the pristine waters of Tortuga Bay, snorkel the crystal blue pools of the Las Grietas crevasse, and bike to the volcanic highlands. Your self-guided tour plan will help you avoid the crowds, explore off the beaten path and into the heart of the Galapagos's central island.

Included: Ferry to Santa Cruz; Breakfasts; Self-guided tours; Bike & snorkel gear; Accommodations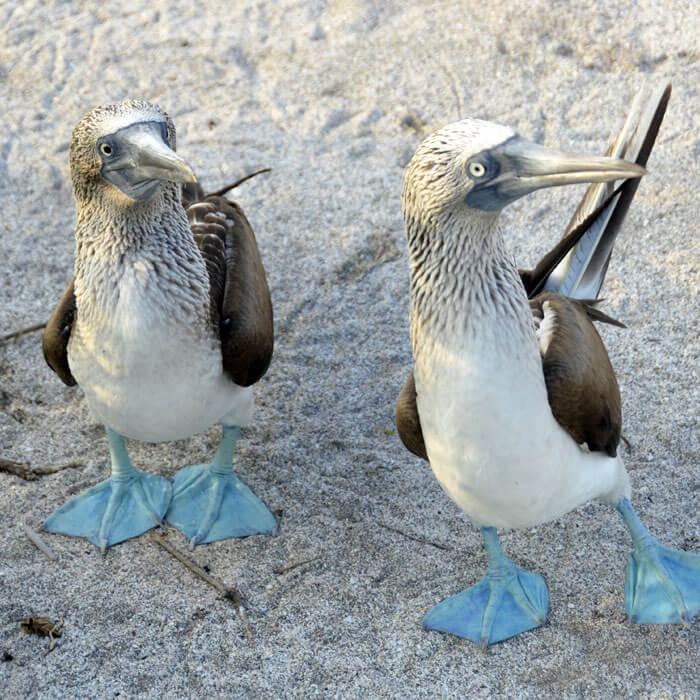 Travel Deeper: Volunteer
To truly understand the Galapagos's unique place in ecology and conservation, you must get to know its present-day challenges. As an optional yet strongly recommended trip extension, consider contributing to our locally-led community service projects. BACK&PACK requires a two-week commitment (minimum) for the volunteer extension, yet we encourage you to volunteer longer (six-week maximum). Project areas may include conservation work, child/school development, sustainable agriculture, and invasive species eradication with local farmers.

$970/week includes: Breakfasts; Volunteer placement, projects, and materials; Transportation between project sites; Donations to partner organizations; Accommodations
A highlight for many, you'll spend your last days in the Galapagos on the island of Isabela. Its main town, Puerto Villamil, is equal parts quaint and charming, with unpaved sand roads from end to end. During your days on Isabela, you'll have two scheduled day tours (guided). You'll kayak and snorkel the Las Tintoreras Islet, named after the whitetip reef sharks that call the channels home. On this spectacular excursion, you may spot turtles, rays, sea lions, and even the elusive Galapagos penguin!

Breaking from the coastal ecosystems, you'll also have a chance to climb the Sierra Negra volcano, the second largest volcanic caldera in the world. If you've ever wondered what it might be like to hike on the moon, this might be the closest thing to it! Then in your spare time, you'll have the option of self-guided snorkeling at Concha Perlas, seeing nearby flamingo lagoons, and hiking to the historic Wall of Tears for an eye-opening glimpse into a darker side of the Galapagos's history.

Included: Ferry to Isabela; Breakfasts; Self-guided tours; Las Tintoreras & Sierra Negra tours; Accommodations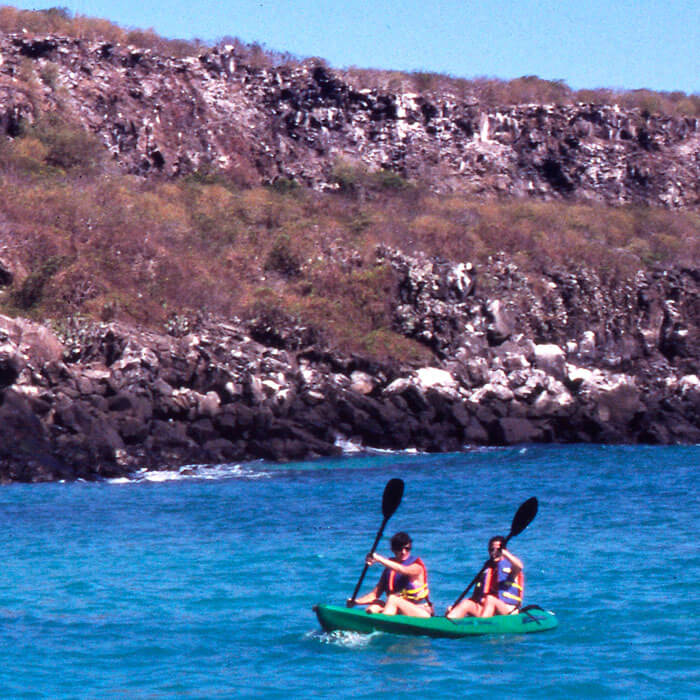 At the end of your trip, you'll ferry back to Santa Cruz. You'll have time to do any last-minute shopping or site-seeing, then continue to Quito via Seymour Airport on the island of Baltra. On your final night in Quito, you'll have a chance to meet with your in-country Host to participate in our closing activities. We'll be sad to see you go, yet the end of one journey is simply the beginning of another. Whether you continue to another destination from here (Amazon and Andes, anyone?!) or head home, we hope you've enjoyed your stay in the other-worldly islands of the Galapagos.

Included: Breakfast; Ferry to Santa Cruz; Airport transportation; Closing program & farewell gift
Start Your Adventure
After completing this short form, we'll reach out to discuss your trip options in more detail, as well as our booking and payment process. Submitting this form is not a booking obligation – simply a starting point for our discussion!