Spain
Madrid, Seville & Granada
Trip Features
Self-guided tours of the main cities & historical sites. Guided adventure tours. Optional flamenco and Spanish language classes.
Dates & Costs
Choose your start date & travel companions. 2-week core itinerary from $1,170/week. 1-10 week language & flamenco extensions from $970/week.
Ages & Availability
Open to ages 18+. Book now for 2023.
Trip Overview
Awe-inspiring castles and cathedrals, delectable cuisine, and passionate people provide an unforgettable setting for this Andalusian adventure. With a focus on authentic, intentional, self-guided travel experiences, you'll go beyond the tourist attractions (and crowds!) yet never get lost amongst the wonders of Spain's ancient cities. Have a blast on our 2-week core itinerary, then extend your stay to learn Spanish and flamenco while immersing yourself in one of Europe's most vibrant cultural regions.
Spain has lifted all of its COVID-related entry requirements. For the most up-to-date information, please visit the embassy website or contact our team for more detailed information.
Itinerary
The adventure begins! You'll spend your first day in Madrid getting acclimated to your new environment. You'll have a chance to meet with your in-country Host for a comprehensive orientation session, where we'll go over your Trip Information Packet (TIP), review safety considerations, cultural norms, and more (new to self-guided travel? – see how it works). Of course, you may have many questions as you begin your journey. Your Host will help you feel as welcome and informed as possible!

Included: Airport transportation; Orientation session; Accommodations
From corner to corner, Madrid is chock-full of history, culture, and incredible food. It's easy to get overwhelmed in Spain's capital city, yet you'll soon learn the must-see sites (and flavors!) are easy to experience on your own. As a fun, go-at-your-own-pace introduction to the city, you'll have a blast on our 2-day, self-guided scavenger hunt. On your adventures, you may find yourself sipping café con leche in city squares, marveling at the sprawling Royal Palace, laughing with street performers, and much more. And – oh yes – there will be prizes!

Included: Breakfasts; Scavenger hunt; Entrance fees to major attractions; Accommodations
Seville Exploration & Flamenco Show
The modern charms of Madrid never cease to amaze, yet the historical and cultural riches of southern Andalusia await! Next, you'll travel by train to Seville. As the capital and financial center of southern Spain, this city of 700,000 offers everything from jaw-dropping architectural sites to quiet, winding, maze-like neighborhoods to a world-renowned food scene and more. You'll spend three days exploring Seville's wonders with the help of our carefully designed self-guided walking tours, including the iconic Giralda minaret tower, the Real Alcázar, and the Barrio Santa Cruz. You'll also have a chance to kick back and take in a tapas tasting and flamenco show – the perfect introduction to the splendors of Andalusia.

Included: Breakfasts; Train tickets; Entrance fees to major attractions; Self-guided tours; Tapas tasting & flamenco show; Accommodations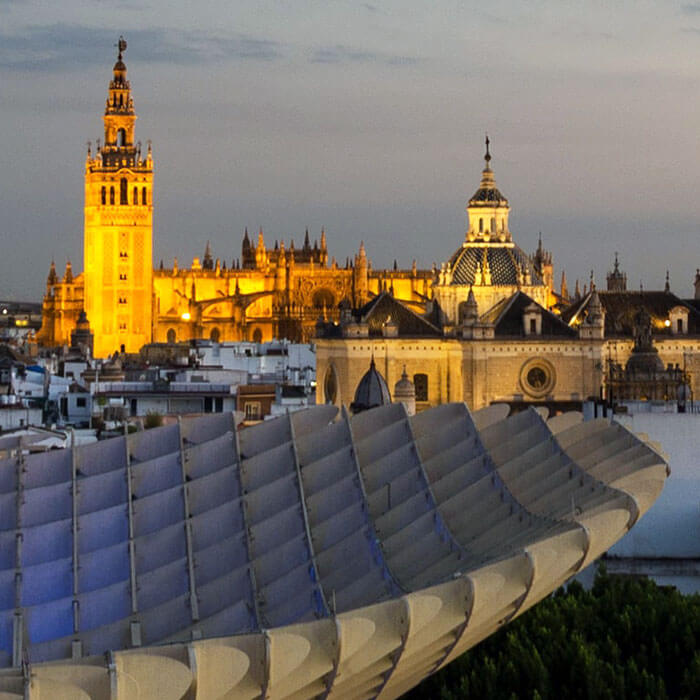 Travel Deeper: Flamenco
The song, dance, and instrumental music originating with the nomadic Roma people, or the area's gypsies, continues to be at the heart of many Andalusian people. As an intimate connection between Spain's rich history and present-day culture, we offer the one-of-a-kind opportunity to learn and immerse yourself in a unique cultural phenomenon – flamenco. You may elect to extend your stay in Seville or Granada for 1-10 weeks to study baile (dance) or guitarra (guitar) at one of our partner institutions. For the most immersive Spanish experience, we suggest combining flamenco with our optional language lessons (see below). No prior experience is necessary for the dance lessons, yet those wishing to learn flamenco guitar should already play other guitar styles (classical, folk, etc.).

$970/week includes: Intensive dance or guitar lessons, professional instructors, shoes (for dance) or guitar rental; Accommodations in a homestay or student housing
It's not always easy to leave Seville behind (years later, you might find that a piece of your heart will still be there!), yet the adventure must move on. As a brief stopover on your next train ride to Granada, you'll have a chance to explore Córdoba. Too often overlooked by adventurers to its neighboring cities in Spain, this city boasts spectacular history with fewer crowds. You'll explore the cultural and architectural contrasts of the famous Mosque-Cathedral, then wander the banks of the quaint Guadalquivir River. Around this time, we'll also schedule your weekly phone check-in with our team.

Included: Breakfast; Train tickets; Entrance fees to major attractions; Self-guided tours; Accommodations
Granada & the Alhambra Palace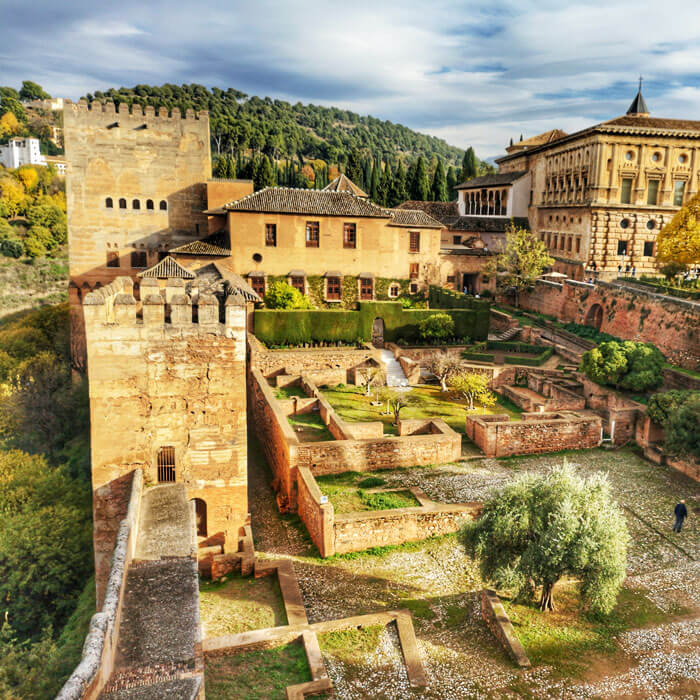 Your next stop is Granada, arguably the single most enriching city in Spain for young travelers and backpackers. Teeming with history and culture – and distinguished for its laid-back, youthful, and vibrant educational atmosphere – Granada offers a perfect setting to dive deeper into Spanish culture and experience a side of Andalusia beyond the tourist attractions (see "Travel Deeper" extensions). You'll have a chance to tour the legendary Alhambra palace – or "Red Castle" – and explore Granada's charming plazas, white-washed homes, tapas, and flamenco scene. As the inspiration for many songs and stories, it's hard not to be captivated and energized by Granada's spectacular setting.

Included: Breakfast; Entrance fees to major attractions; Self-guided tours; Accommodations
Travel Deeper: Language
¿Hablas español? You should learn! There's no better way to get in deep with a country than learning the local language. For this optional 1-10 week extension, you'll work with professional instructors at one of our partner institutions in Seville or Granada. No prior experience is necessary for this extension – just a willingness and excitement to learn one of the greatest of the Romance languages. You'll be placed in a class that matches your experience level, whether that's the most beginner of beginners or somewhere more advanced. And for the most well-rounded Spanish immersion experience, consider combining your language lessons with flamenco study (see above) and/or a local homestay.

$970/week includes: Intensive Spanish language instruction (10-20 hours/week); Course materials; Accommodations in a homestay or student housing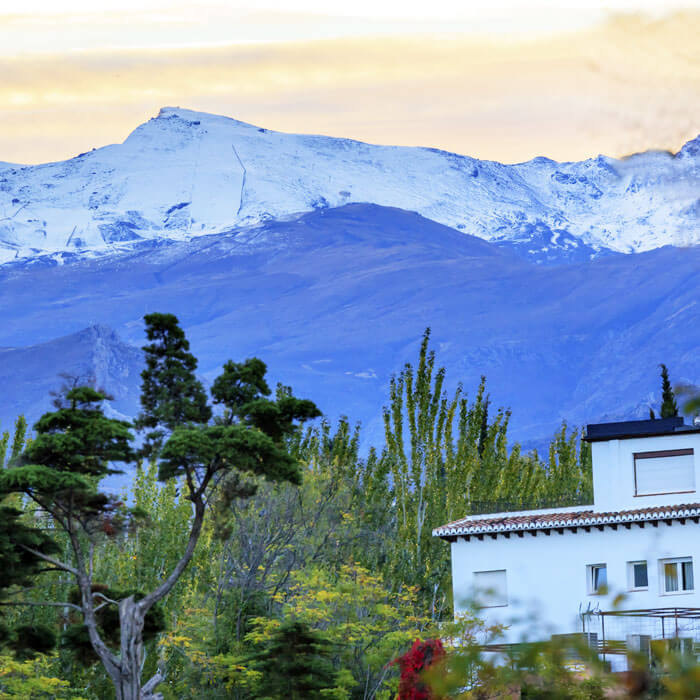 Granada owes much of its stunning skyline to the nearby Sierra Nevada mountain range – home of the highest point in continental Europe outside the Alps and the Caucasus Mountains. As a much-earned break from Spain's urban centers, you'll head south into these beautiful mountains and nearby canyons on a weekend excursion to get a taste of the adventurous side of southern Spain. Depending on the time of year, you'll get your blood pumping while exploring the National Park, canyoning, swimming, waterfall rappelling, or even skiing.

Included: Breakfast; Guided tour of the Sierra Nevada mountains (activities depend on the time of year) including transportation, professional guide, and gear; Accommodations
Málaga & the Caminito del Rey
You'll cap off your adventures in Andalusia in Málaga. Highlights on this excursion include a visit to the Alcazaba – a Moorish fortress-palace – and the central market at Atarazanas. As the birthplace of Pablo Picasso, you'll also pay tribute to the famous artist by touring a museum devoted to his early work. Of course, there will be room to spend some time relaxing on the beach, and for the most adventurous – a heart-stopping walk on the Caminito del Rey, a ~330 feet high aerial path pinned along the cliffs of a narrow gorge in El Chorro.

Included: Breakfasts; Transportation between sites; Self-guided tours; Accommodations
At the end of your trip, you'll be transported back to Madrid and will have a chance to meet with your in-country Host to participate in our closing activities. We'll be sad to see you go, yet the end of one journey is simply the beginning of another. Whether you continue to another destination from here (Iceland, anyone?!) or head home, we hope you've enjoyed your stay in southern Spain. Viva adventure – viva España!

Included: Breakfast; Train tickets; Airport transportation; Closing program & farewell gift
Start Your Adventure
After completing this short form, we'll reach out to discuss your trip options in more detail, as well as our booking and payment process. Submitting this form is not a booking obligation – simply a starting point for our discussion!